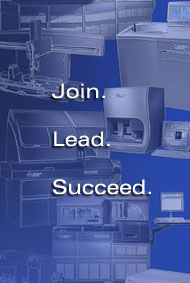 College Relations :: Overview

YOU CONNECT…

At Beckman Coulter, our goal is to connect the brightest minds with the best technology to impact the next generation of biomedical testing breakthroughs. Everything we do stems from our goal to enable new discoveries in biomedical research, drug development and the diagnosis and monitoring of disease. Our focus is to simplify, automate and innovate customer processes, to improve patient health and reduce the cost of care. Are you ready to connect?


YOU CAN…

Impact future generations – Our INSPIRATION at Beckman Coulter is to dedicate ourselves to improving patient health and reducing the cost of care while continuing to FOCUS on creating shareholder value through growth, quality and operating excellence. With each employees individual contribution to the company we will have the ability to impact future generations.

Bring science to life – Both Beckman and Coulter has rich traditions of inventive genius. Beckman's founder, Dr. Arnold O. Beckman, was driven by a desire to speed analytical processes in the laboratory. His invention, the acidimeter, known today as the pH meter, made pH measurement fast and accurate and spurred the formation of Beckman Instruments, Inc. Wallace H. Coulter and his brother Joseph R. Coulter, Jr., developed the simple idea of passing cells through a sensing aperture. Introduced in the mid-1950s, the Coulter Principle became the foundation of an industry responding to the need for automated cell-counting instruments. To this day, Beckman Coulter is a strong advocate for the advancement of science and improving patient health.


YOU REVOLUTIONIZE…

Beckman Coulter is in the business of "Innovating Processes for Biomedical analysis." In addition to meeting customer needs with high quality, state-of-the-art instrument systems, the company develops collaborative relationships to help customers to identify ways to maximize the efficiency of those systems in their processes. This is referred to as "The Power of Process." Are you ready to revolutionize?


YOU MAKE CHANGE POSSIBLE…

By embracing our company values of INTEGRITY, TEAMWORK AND LEADERSHIP, you can make change happen. Based on your skills, experience and inspiration, you can push Beckman Coulter to achieve something remarkable. Are you ready to make change possible?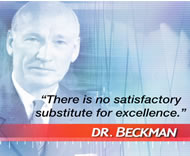 View Video of BEC Overview
(Please wait for streaming)

Low Bandwidth
320x240 - 4.2 MB

---
View Video of BEC Overview
(Please wait for streaming)

High Bandwidth
640x480 - 11.1 MB

---
Flash Player required